Almas Industries
DOC Defibrillator
Developed by Eden in conjunction with Philips and Vodafone France (SFR)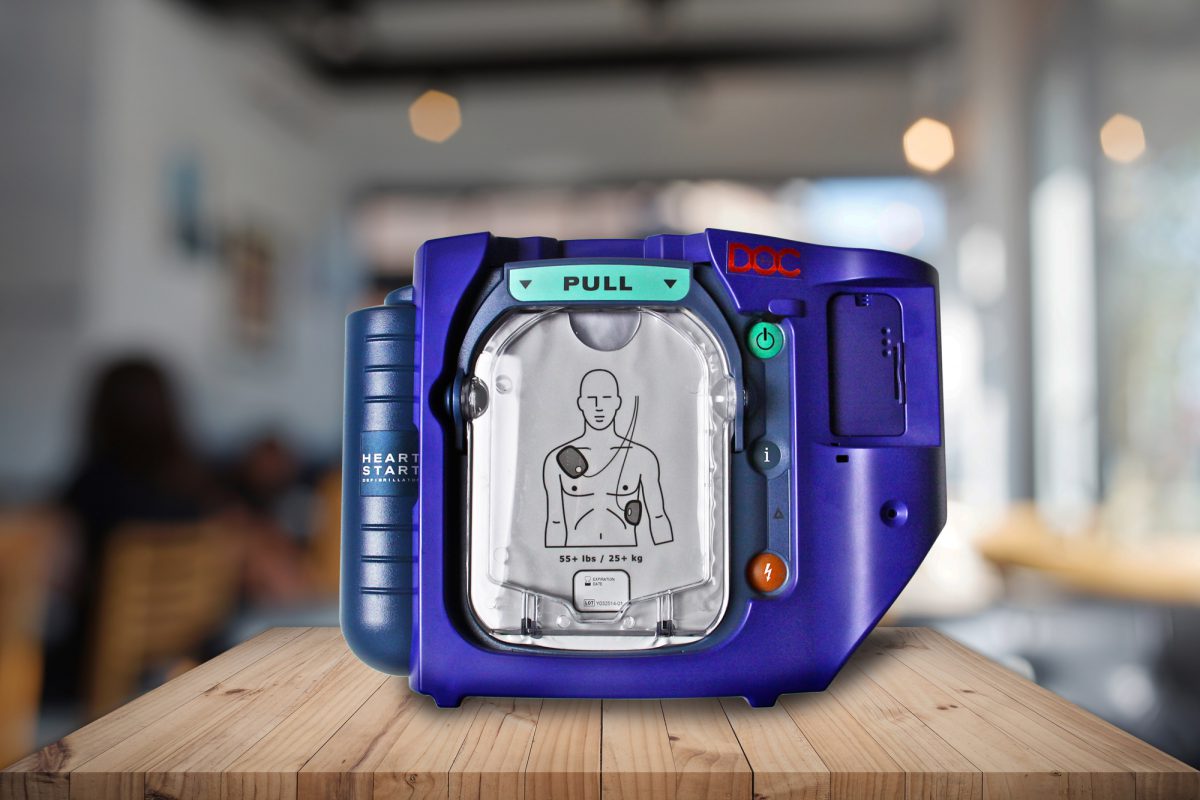 The DOC defibrillator was developed by Eden in conjunction with Philips and Vodafone France (SFR) – it's a monitored AED that provides a solution to the main concerns of business owners when considering whether to provide defibrillators for their sites and those people that may have to use one, namely reliability, liability and maintenance.
It provides an ideal solution for socially responsible companies that want to provide life-saving equipment to protect their employees and customers.
Did you know that if you treat someone that is having a cardiac arrest with CPR and defibrillation within 3 minutes, they have up to a 74% chance of surviving this fatal situation? If you wait for the paramedics to arrive, which they are targeted to do around 8 minutes after you make the call to 999, the casualty – who could be a loved one or colleague, has just 5% chance of surviving.
Almas is on a mission to increase the number of defibrillators everywhere; in businesses, schools, sports and leisure clubs, hotels – anywhere where there are a lot of people or there is a higher risk of cardiac arrest.
Do you know where your nearest defibrillator is right now? Would you know what to do if someone dropped in front of you now and they weren't breathing?
DOC is different to standard defibrillators because it has extra features that were developed to guide you through a cardiac arrest situation from start to finish.
It's monitored remotely – that means that we check it daily to ensure it will always be ready to use if the worst happens. When you move the DOC – it sends a signal to our monitoring centre, who then call the DOC and speak to the person through the integrated sim card.
They check it's a real medical emergency, they will reassure the user and then call the ambulance service and direct them to the location.
That all means that the user can get on with delivering treatment to the casualty. The DOC gives automated CPR advice and conducts an ECG to determine whether a shock is advised. There is no chance that the user can give a shock to someone that doesn't need it, the DOC won't allow it.
DOC includes full service and maintenance – it will always be ready to save a life.
We sell a range of defibrillators, so we can help advise you as to the best fit for your needs.
If you'd like to discover more about DOC defibrillators, please click 'Learn More', alternatively call us and we will be happy to assist – 0333 567 66 77 or 01 68 333 68, or email us: [email protected]