What is Lone Worker Protection?
Lone workers are employees that work alone, travel to other locations or operate in remote or noisy places on your site. Due to the nature of their work they face additional or elevated risks during the course of their day, such as assault, or an unattended medical emergency or accident. As their employer, you have a legal responsibility to ensure they get quick support or medical attention when they need it. Lone worker devices protect your team – they are connected and monitored and  raise an alarm automatically or manually according to the situation.
Types of Devices
The right lone worker device will be one that is suited to your employee's daily activity. It needs to be comfortable and practical for them, because if it isn't – it won't get used. Our security consultants will help you identify the right device for your business' and your team's needs. We configure the lone worker devices with the relevant alerts, geofencing and monitoring during the commissioning stage.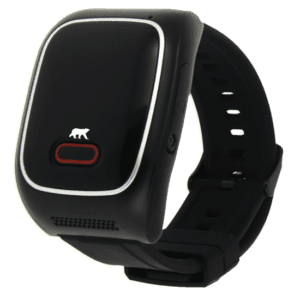 Comprehensive protection for lone workers. A versatile and comfortable gadget for employees that provides manual and automated emergency alerts. It offers employees with a safety and preventative mechanism in the event of a hazardous situation or an emergency.
We call it a watch, but it can also be worn around the neck on a lanyard, or on an arm or ankle strap.
Most lone worker devices have a geolocation function, normally a GPS location which is good for workers in the field.
Our Safety Watch can pinpoint where in a building your employee is using bluetooth beacons. It's new and it's a fantastic feature for large manufacturing or logistics sites or buildings with many floors. There is also a WiFi option.
The lone worker safety watch comes with 24/7 monitoring from our Alarm Receiving Centre partner, allowing for rapid reaction to warnings and help for lone employees. You may already have lone worker protection in place, but you don't have this functionality..
SAFETY WATCH – ACCIDENT SCENARIO
Your worker dons their safety device when they start work. As they go about their day, it's connected and ready at all times.
Your lone worker suddenly falls from a ladder or has a medical emergency.
The watch can detect different types of incapacity:
'Extended Tilt' – There has been a fall (only works if it's clipped on a belt).
'Inertia' – your lone worker hasn't moved in a while (this can be set from 30 seconds to 3 minutes)
The countdown commences and the watch vibrates to try to rouse the employee. If it's not a genuine emergency, then they can cancel the alert within this countdown. If they don't then the alert is sent, with location, and starts the emergency protocol.
You determine the protocol. On a large industrial site you may have a first aid or medic and want them to be the first point of call. If your worker is in the field, then you may want the emergency services to be called immediately if there is no response while you also receive a notification. It's a flexible system that can be configured to your needs.
ARC monitoring or self monitoring platform is available.
SAFETY WATCH – ASSAULT/ THREAT SCENARIO
When your team are out in the field, they are vulnerable, especially if they are carrying a lot of goods or cash, or going into high risk environments.
If they feel under threat they need to be able to raise an alarm immediately either overtly or covertly, depending on the situation.
A quick response can stop a situation from escalating and reassure your employee that help is on the way.
GPS location can be given to the police to speed response.
Entry-level personal alarm that protects the lone worker in emergency circumstances by tracking their whereabouts if there is an alert. They may have fallen, or remained motionless for an extended length of time, or there could be a risk of assault. There is an accompanying discreet black wristband or clip to a waistband or wear on a lanyard around lone worker's neck. 
This is a self-monitored device, it doesn't link to a 24-hour monitored Alarm Receiving Centre. Configure email or SMS alerts to message supervisors or a central health and safety department according to your business' needs.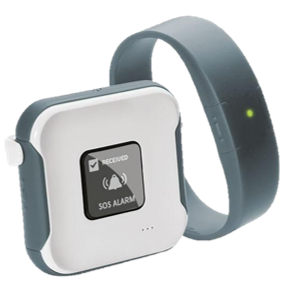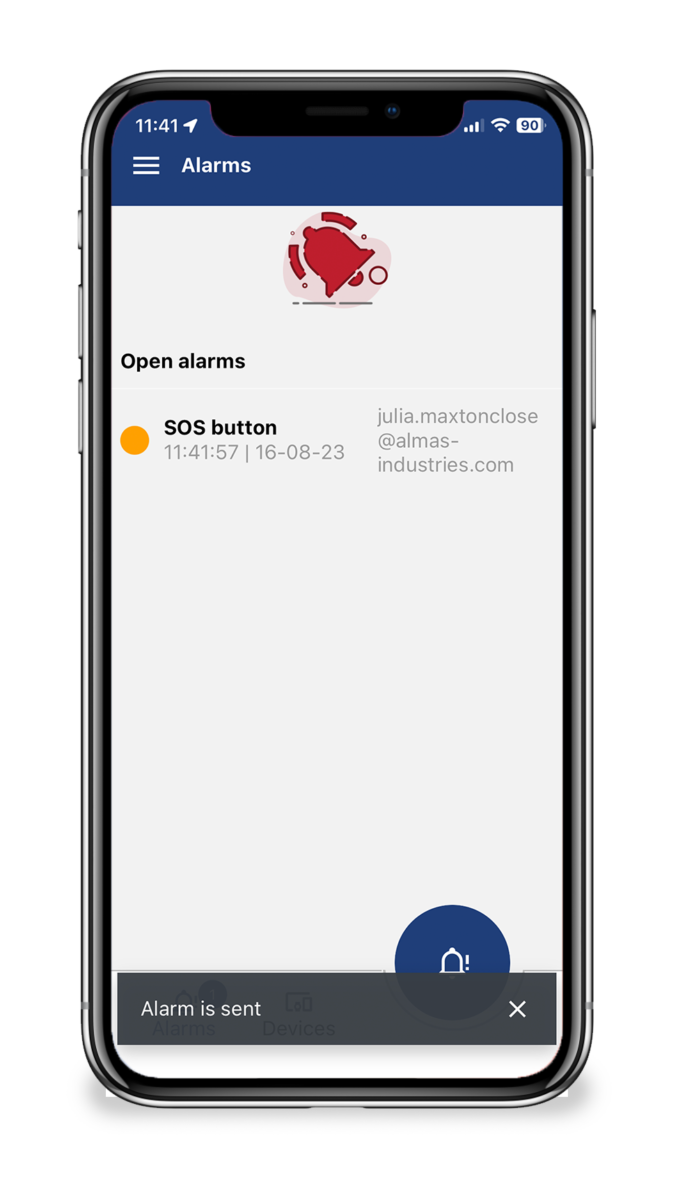 Lone Worker App
Suitable for low-risk workers, the lone worker can initiate an alarm by pressing the 'button' on the app, there is a countdown timer to prevent accidental activation.
Alerts are transmitted to your inhouse monitoring platform, which can be configured to initiate emergency protocols and contact supervisors or managers to check in with the employee.
The lone worker app must be accessed through a smart phone which could be challenging lone workers facing assault or aggressive behaviour.
Why choose Almas Industries for your Lone Worker Protection Solution?
 
The Almas Group solutions safeguard lone workers in multiple European counties. We protect thousands of workers every day in a wide range of environments, from manufacturing to retail, logistics to domiciliary care, education to facilities management in conjunction with our other security solutions. Our monitoring partners Qvis are the most accredited ARC monitoring centre in the UK. They are experts in dealing with emergency situations and ensuring your team get the support they need in the event of an emergency.
Our Security Consultants will help you identify the best lone worker solution to protect your team.
Dedicated
Our security engineers and consultants support our customers effectively due to their expert knowledge; they are committed to providing you safety, security and peace of mind.
Tailored
The scalable solution you receive is tailor-made for you now, and in the future. Integration with your management software is feasible, contact us for more information.
Complete
We remove the burden of security by giving you an end-to-end solution including maintenance and service to SSAIB standards. Here's what our customers say about Almas:
If you would like more information, or to 
book a consultation with one of our security experts…
Call us on 0333 567 77 99 (UK) or 01 68 333 68 (IRE) or complete your details and we will get in touch to discuss your requirements so we can give you an accurate quote.
FAQs
We are here to help
You may have some more questions, or
if you would prefer to speak to a security consultant
Lone working is not limited to people who are working alone in the workplace, but the definition also applies to anyone working in isolation from the rest of the workforce. This could mean that they work within a manufacturing facility at a machine or in a pod and noone else can see them during the course of the day. If they have an accident, how do you know?
What is lone worker protection?
Lone Worker Protection refers to the procedures that a company must use to safeguard the safety of its lone workers. All risks faced by workers working alone must be identified, prevented, and reduced by the employer. This includes having an alarm system in place that sends out an alert in the case of an employee issue.
What is an Alarm Receiving Centre?
An alarm receiving centre (ARC) is a highly secure monitoring station that is manned 24 hours a day, 365 days a year by qualified professionals.
Our safety devices are monitored by Qvis Monitoring, the UK's most Accredited Alarm Receiving Centre.
Which laws directly affect employers?
There is no specific law dealing with lone working. However, every health and safety law applies equally and, in some situations, even more to lone employees.
Two key pieces of legislation address lone working:
Health and Safety at Work etc. Act 1974
Management of Health and Safety at Work Regulations 1999
The Safety, Health and Welfare at Work Act 2005 (IRE)
Every company has a responsibility to safeguard their employees' health, safety, and well-being.
How do you choose the right device for your lone worker?
There are five key factors to consider when choosing the right lone worker device: Ergonomics, Discretion, Communication, Geolocation, Quality support.
Assess your lone workers' day and activities to understand which device is suitable for them in their role; the watch, the SOS alarm, or the mobile app. Read more about how to choose the right device here.
What are the risks for isolated workers?
Lone working is not a risk in the strict sense of the word. However, employees can be more prone to accidents because behaviours and habits aren't the same when you work alone. The issues is compounded because it's then more difficult to detect an accident and to rescue the isolated employee.
This is why all employers must train and inform their lone employees on the procedure to be applied in case of an accident in order to be rescued. The Health and Safety at Work Act 1974 (UK) and the Safety, Health and Welfare at Work Act 2005 (IRE) require you as an employer to guarantee their protection.
How do I protect my lone workers?
Once you've identified your team members who work in an isolated environment or are alone in the field, you should then list the threats and risks that they face. Are they occasional or regular? Then draw up a lone worker protection plan. This will involve an alert system which is relevant for their specific activities and threats. For example, if they are at risk of assault, then a way to raise an urgent alarm must be easy and quick. Fumbling in a bag for a mobile phone to activate an app… well you get the idea, it's not effective. The protocols must match the risks.
If you'd like advice as to the right solution for your team, please get in touch.
How much do lone worker devices cost?
We can quote on an outright purchase for the device and a separate monthly monitoring cost (if monitoring is through the ARC) or as a monthly lease cost which includes everything.
We know you want a price right here, right now.. but we need to discover how your lone workers operate on a daily basis and your requirements before we can advise the best solution for you business' needs.