Construction Site Security
Improve productivity and reduce risk with workforce management software integrated with facial access control, CCTV and anti-intrusion solutions
Get a quote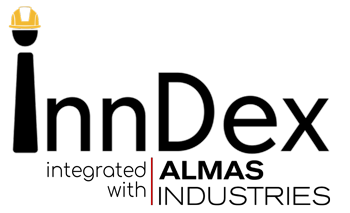 European security solutions leader Almas Industries has integrated with innDex specialist construction site management software to give Construction Directors, Site Managers and Health and Safety Managers the tools they need to deliver a safe, efficient, and secure project.
How can we save you time and improve efficiency?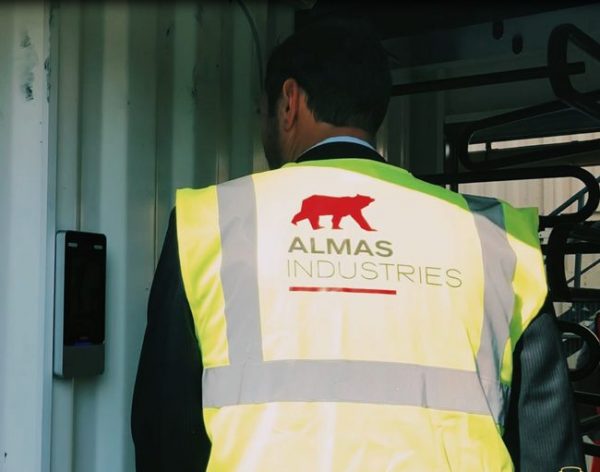 Enhance Safety and Security with Facial Access Control:
Biometric face scanners: secure access by providing absolute proof of who is on your site, and when – ensuring only qualified and authorised contractors access site.
Accurate roll calls accessible on the mobile app, improve evacuation procedures.
Robust, easy to use and reliable biometric readers that adhere to GDPR requirements are mounted on turnstiles, gates or in pods.
NEW: solar powered pods not only reduce running costs and are more environmentally friendly, but can be installed where there isn't yet a stable power supply in place.
Improve Productivity with End to End Workforce Management Solutions
Real-time dashboards enable managers to make informed decisions while reducing and streamlining paper-based processes
Health and Safety communication: connect and engage the workforce – push out H&S updates and communications to all operatives, document toolbox talks, and onsite near misses in seconds.
Save Time with Digital Site Inductions:
Eliminate hours of hanging around on sites on the first day, and avoid duplication of inputting qualifications on different sites.
Improve workforce mobility: contractors carry their skills, credentials and profiles and biometric template across sites and update on site-specific inductions remotely, creating a seamless experience on site.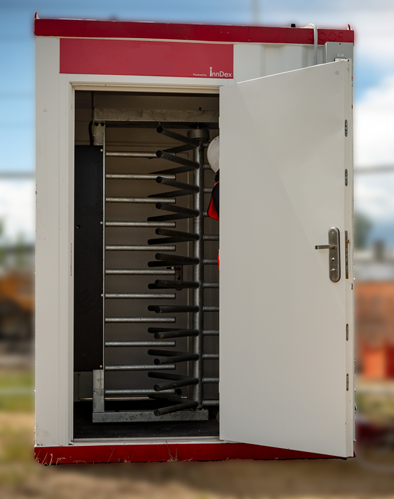 Stop Contractor Overbilling & Time Theft
Solar powered pods fitted with contactless face scanners coupled with innDex time and attendance reporting ensures accuracy and transparency across the project team; accurately captures hours worked with noticeable productivity gains.
Reduce over-billing to the unfalsifiable nature of the data captured. Biometric access control checks who someone is, rather than the credentials they carry.
Easy to use, reliable, contactless face scanners that adhere to GDPR requirements.

Construction Site CCTV and Perimeter Anti-Intrusion Solutions
Stop Theft and Vandalism with CCTV and Wireless Alarm Systems
Perimeter anti-intrusion detection protects your project from raw material theft and vandalism.
Reduce internal theft
Accidents and incidents are effectively investigated due to unfalsifiable evidence
ARC monitoring gives eyes on site 24/7 – with a swift response in the event of unauthorised ingression or vandalism out of hours.
Active Deterrent CCTV
3-in-1 active deterrent cameras alert the ARC monitoring centre or guarding company when the virtual perimeter is breached, and also emit a loud siren and flash blue and red when triggered.
Intruders will be challenged verbally through the integrated 2-way speaker by the live operator or with pre-programmed messages.
Virtually ring fence plant or raw materials to create an alert if it's breached out of hours.
View Active Deterrent CCTV cameras in action here
Wireless CCTV Towers
Detect, monitor and protect from anywhere with NEW rapidly deployed, portable and wireless CCTV towers.
Eco-friendly: solar powered to reduce power consumption. No noise pollution with silent operation
Live audio interactions connected to our partner's Smart Monitoring's operators alert intruders that they have been identified and that response is on its way
Reduced false alarms: award winning Calipsa AI Platform from Smart Monitoring eliminates up to 98% of false alarms
Live system diagnostics mean any faults are swiftly identified and responded to, keeping your site safe and secure at all times.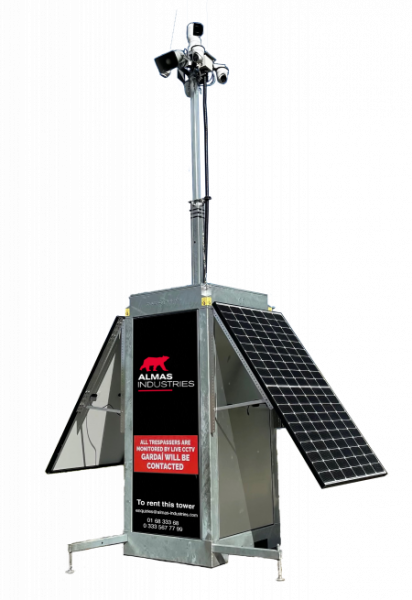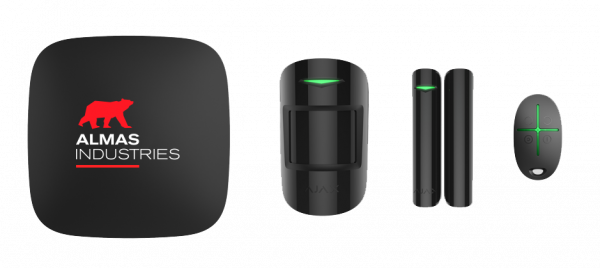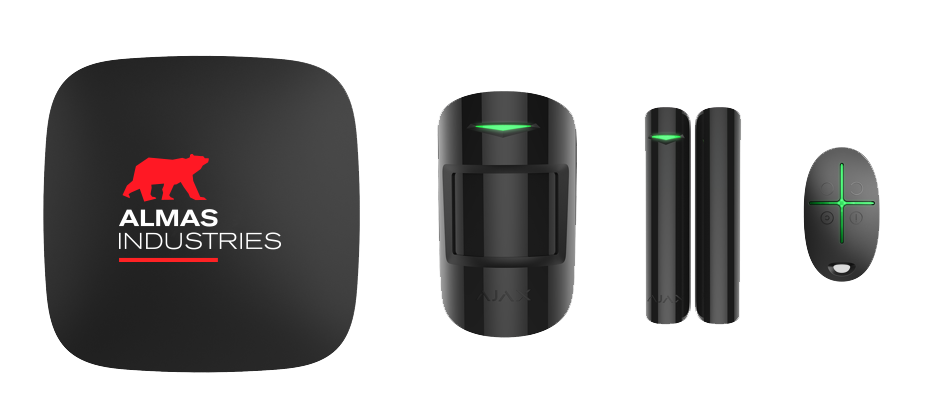 Anti-intrusion and Anti-Theft Alarms
Flexible and easy deployment of wireless PIR detectors can create a virtual perimeter around the site.
PIRs with inbuilt camera can take a snapshot of anyone activating the PIR out of hours, leading to immediate notification to the ARC monitoring centre.
Wireless installation means detectors can be moved easily as the site grows.
Flood, heat and CO2 detectors add additional early warning protection that there could be an incident.
Range extenders are available for large sites.
Almas Industries have been protecting and securing UK and Irish businesses for 16+ years
Delivering a full range of tailored security solutions for your specific requirements and integrated with industry leading software to enhance security and productivity on your construction project.
Get in touch by calling us on 0333 567 7799 (UK) or 01 68 333 68 (IRE) to find out more, or complete your details below and we will contact you to discuss
Read how innDex and Almas improved productivity and security on VolkerFitzpatrick's Ilford station project here