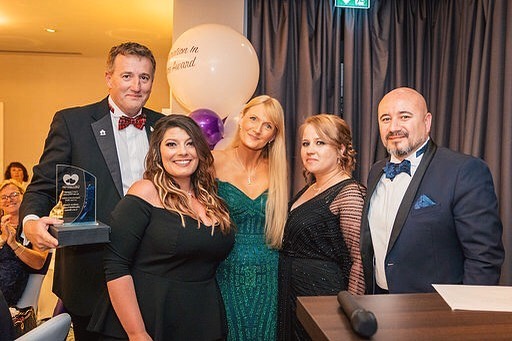 Blog
The Care Campaign for the Vulnerable 2019 Inspiration in Care Awards Gala Dinner
Almas Team A wonderful time was had by all the supporters and sponsors of The Care Campaign for the Vulnerable Inspiration in Care Gala Awards Dinner
Almas Industries had a wonderful time at the Care Campaign for the Vulnerable (CCFTV) Awards event last Friday at the Crowne Plaza, Gerard's Cross. This is the third year that CCFTV has organised a gala event to raise awareness of safety monitoring in care. But Friday was the first Awards Gala that they have organised and a milestone for Jayne Connery and her team. It's a chance for everyone who supports CCFTV to get together and celebrate the wonderful people who provide excellent care in the sector, and for CCFTV to thank supporters, both providers and families in care.
Everyone was dressed to the nines and the evening started with a lovely glass of Prosecco. Rob Lamarr opened proceedings with Jayne taking to the mic to remind everyone about the work of the CCFTV. It was wonderful to see a room full of people who are all committed to safeguarding within the care sector. On our table were fortunate to be sitting with Philip Scott from Care Protect, who are CCTFV's main sponsor; and Nadra Ahmed OBE, Executive Chairman of the National Care Association; Aimi MacDonald, CCTFV's ambassador, as well as Sharon Coady & Ann Marie McDonagh from Serenity Grace who provided Jayne's beautiful dress.
It was wonderful to meet people from Shedfield Lodge, Wellburn Care Homes, Marlbrook Care Homes and Ashridge Home care. The groups of people sitting at each table were diverse, and Sheffield Lodge had come down with both their management team and the husband of one of their residents. We thought it was wonderful that they were included.
After a delicious three course dinner, during which the silent auction took place, Rob Lamarr hosted a raffle. Everyone cheered when the main prize – a flat screen TV – was won by one of the carers! I overheard her saying later that she might have to evict one of her passengers to make room for the TV in her car! This was followed by a 'Heads or Tails' competition where the last person standing won a lovely bottle of bubbly. After this, we were all enthralled by Ida – a four-piece crossover classical group – before moving on to the presentation of the awards.
Five businesses won Inspirational Leaders in Care awards: Say So; Sheffield Lodge Care Home; Wellburn Care Home; Marbrook Care Home and Ashridge Care Homes. Sally Blackenden, an independent Dementia Care trainer, also won this award for her independent work. Three families – Louise Paige, Gina Begley and Joy Dey – won awards for their inspiration care of family members. Every award that was given out had a story behind it and it was humbling to hear people talk about their lives and the ways in which CCFTV has helped them. This was no more so than the final award, The Padraig O Conaire Award for Inspirational Care, which went to Lola Idris Debayo.
Lola's story bought tears to some people's eyes. Having spent time homeless in the past, she now not only works as a carer, but once a month she goes into central London and feeds the homeless. An inspirational lady.
After the last award, the most exciting part of the evening began – a live performance by Jon Culshaw. Jon had sped up the motorway on his motorbike direct from a performance in central London and he had the whole room in stitches the entire time he was doing his impersonations. The audience was encouraged to make suggestions, which resulted in a really great set which included Donald Trump, Tom Baker, David Beckham, Prince Charles, Alan Bennett, Ozzy Osbourne, Peter Ustinov, Tony Blair, and many others. It was absolutely brilliant!
As Shaun Keep from Say So said after they won their award, "The real leaders are those care providers who are seeing the light and moving to an independent reporting service to better manage risks, improve standards, improve CQC grades but most importantly to keep more vulnerable people safe". Here at Almas we could not agree more.
Jayne Connery is an inspiration to us every day. We are proud to support CCTFV and proud to be part of the CCTFV 'team' which champions the use of safety monitoring. Together we really can make a difference and we are excited to see what the rest of 2019 brings!