Improve Security with Facial Access Control
Fast, secure, contactless face recognition for businesses
Facial ID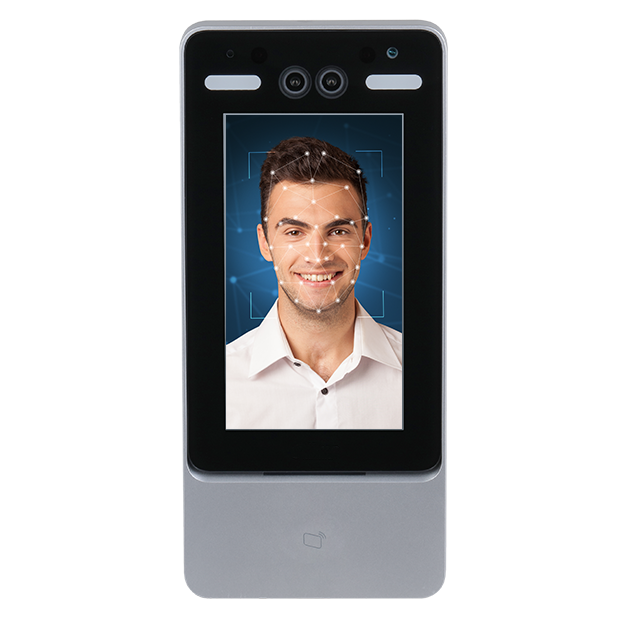 Internal and external facial access control
Secure your site

Anti-spoofing technology and liveness detection ensures this reader allows only authorised users onto your premises.

Swift user detection

Verification speed is less than 0.5 seconds per person from a range between 0.3-2m.

Highly accurate

The false recognition rate is less than 0.1%

Large capacity

Up to 30,000 biometric facial templates can be uploaded
Facial Access Control Delivers Superior Security and User Experience in Your Business
Face scanners provide a seamless entry user experience.
Biometric facial recognition readers are an effective touch-free access control solution that may be used in a building to verify that users are authorised before they enter controlled areas, buildings or departments.
Facial access control solutions are ideal for many sectors including construction, pharmaceutical, health and hospital, banking, and government. In recent years since mobile phone operators have adopted the technology to authorise operations on smartphones this technology is now the fastest growing mode of biometric access control.
Key Reasons To Choose Facial Access Control
HANDS-FREE AUTHENTICATION DELIVERS A GREAT USER EXPERIENCE
No more fumbling around for keys. cards or fobs. Remotely enrol or remove people from the system with just a couple of clicks in the software or from your mobile, ensuring that the database of authorised individuals is always up to date.
Identify is verified swiftly within 0.2 seconds.
ULTRA-SECURE TECHNOLOGY
Access is granted by using data that cannot be reproduced, stolen, or utilised by unauthorised parties. Highly accurate face scanners and AI prevent false positive identification. Anti-phishing technology settings prevent fraudsters attempting to use photos, fake masks and videos from gaining entry.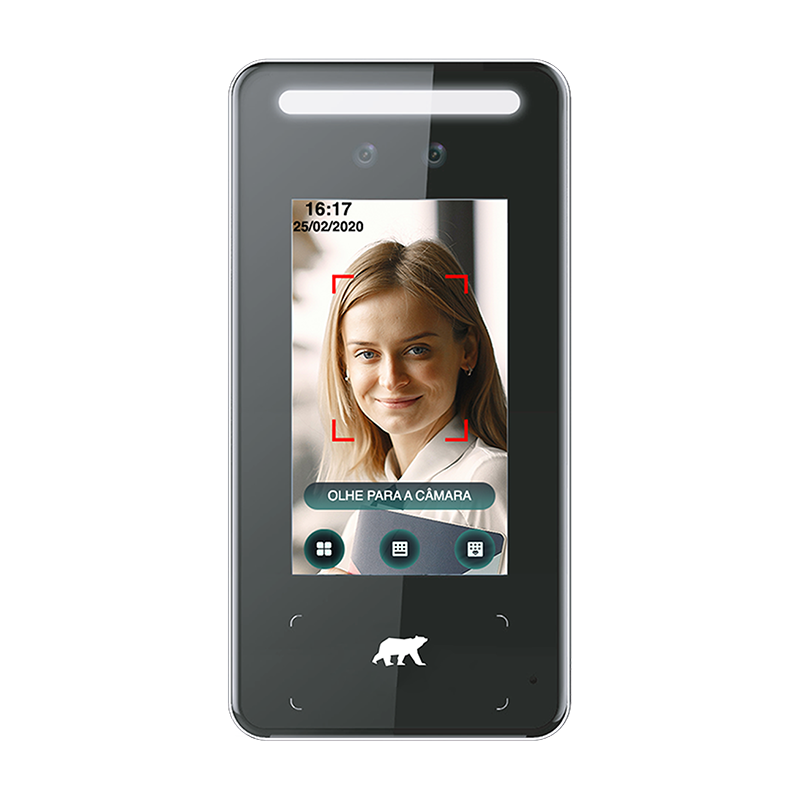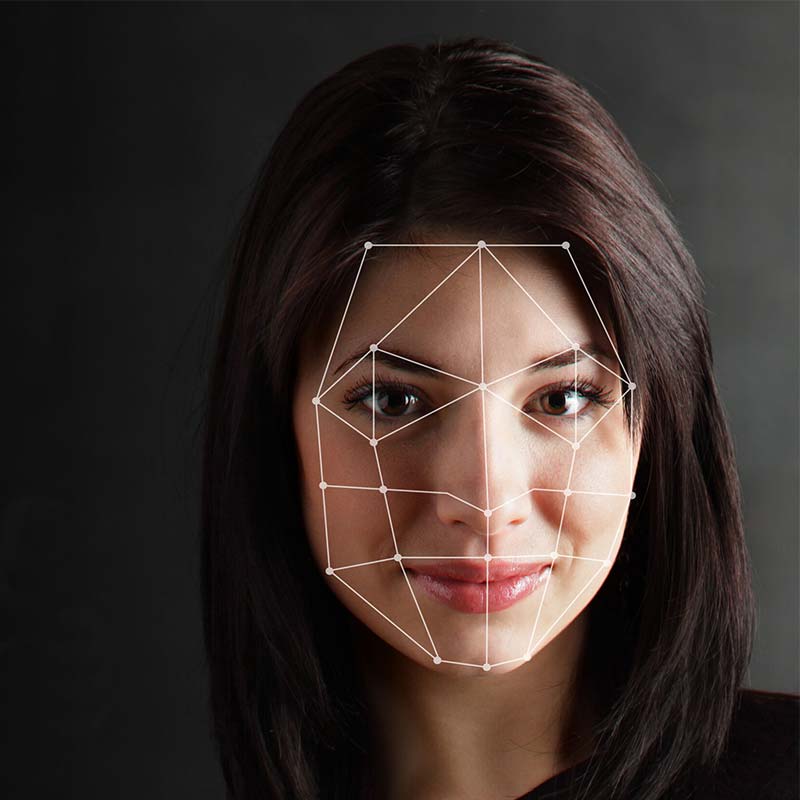 PROTECT ACCESS TO SENSITIVE AREAS 
Guarantee that only authorised individuals can access your secure areas such as server rooms, high value stock storage areas, R&D, HR records storage or laboratories using face scanners.
DURABLE AND RELIABLE
Internal and external options for all weathers and locations with anti-vandal covers and built-in safeguards.
TEMPERATURE DETECTION  
Upgrade to face scanners with temperature detection to prevent anyone with high temperatures from accessing the site. This capability is especially advisable for sectors dealing with potentially contaminated items, such as food. Temperature controlled environments are ideal for cold, covid and flu germs to linger and spread. Preventing infected and feverish individuals from the site can reduce the risk of mass staff downtime due to illness.
Accuracy rate ≥99.5%. Supports liveness detection
Recognition Speed under 0.2 Seconds, Fast Recognition in Low-light Environments and Darkness
IP65 protection – Water and dust resistant
Face-camera distance – 0.3m-2.0m. Human height:0.9 m–2.4 m, The Equality Act compliant
Dual factor authentication – Optional dual factor authentication with MiFare cards/ fobs
Supports alarm output – Anti-passback, Tamper, Duress, Door sensor timeout, illegal intrusion
Dimensions – 396.9mm×185.6mm×77.2mm
Operating Temperature – -30°C to +60°C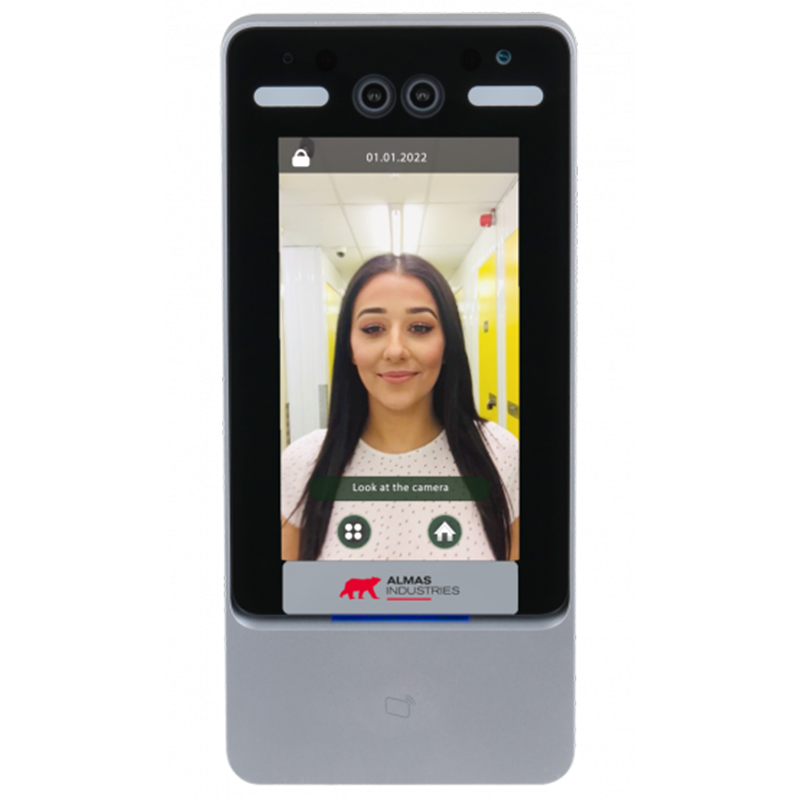 Face Scanners Powered by Optima Access Control Software Deliver Greater Control and Flexibility
Secure and seamless user experiences with biometric authentication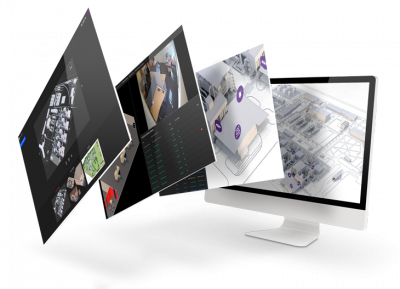 Onboard and offboard users easily 
 Fully mobilised software, suspend in seconds from your mobile, or pulse open doors when off-site 
 Manage access times by group: i.e. management, staff, contractors 
 Use with facial recognition, fingerprint, vein or RFID readers 
 Receive notifications of unauthorised access attempts 
 Improve efficiency and save time by integrating with your existing management software 
 Active directory synchronisation available 
 SSO (Single Sign On) for improved security or dual factor authentication option 
 Free software updates for the duration of your contract 
01
IDENTIFY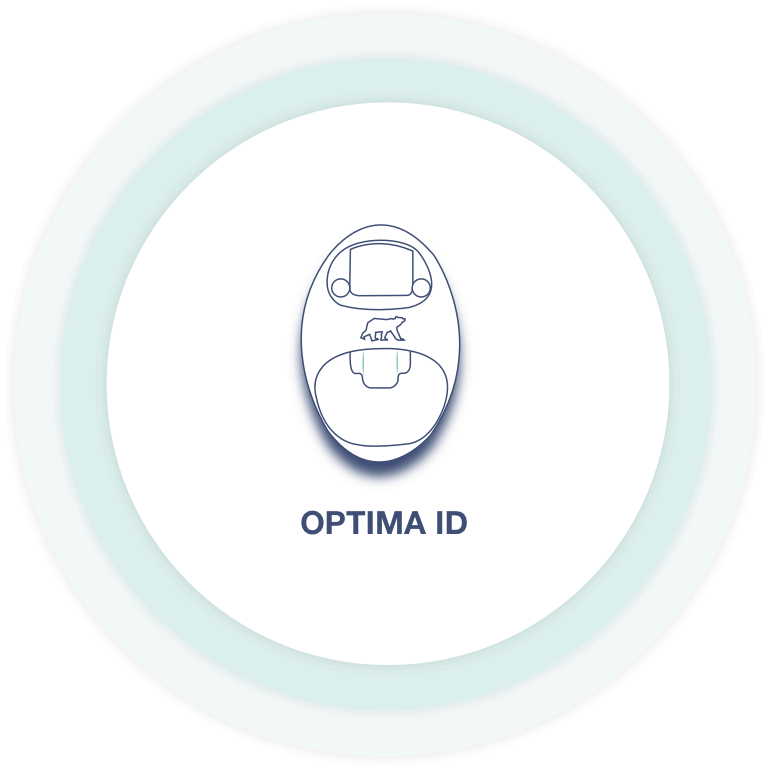 When you present your face to the face recognition reader, the reader compares the unique traits that the reader has recognised to the 'biometric template' that was established when you were registered with in system. Your access will then be validated or refused based on your access rights.
02
SECURE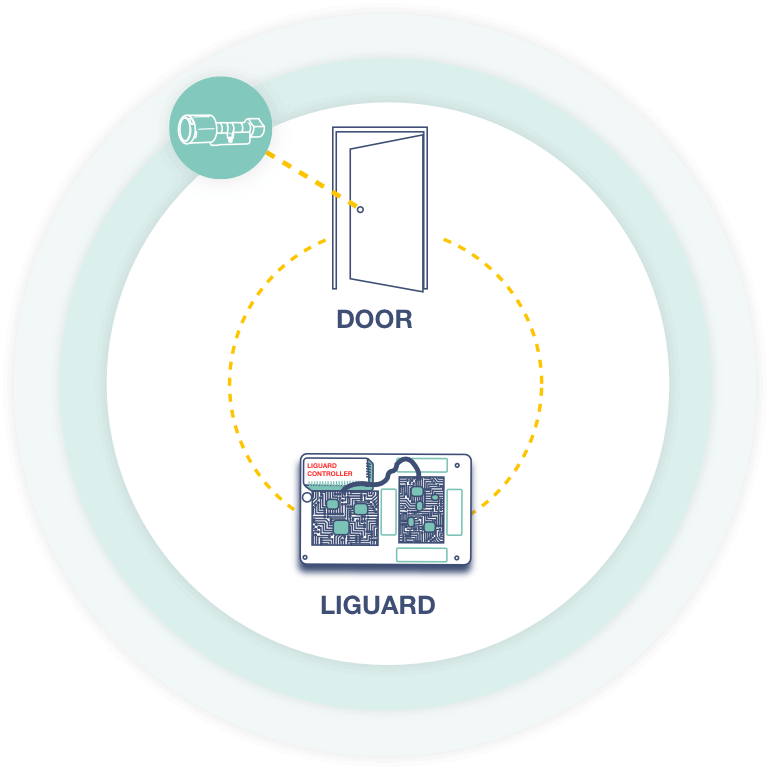 The reader instructs the door locks whether or not to open. The biometric reader will inform you whether or not your access has been authenticated.
03
MANAGEMENT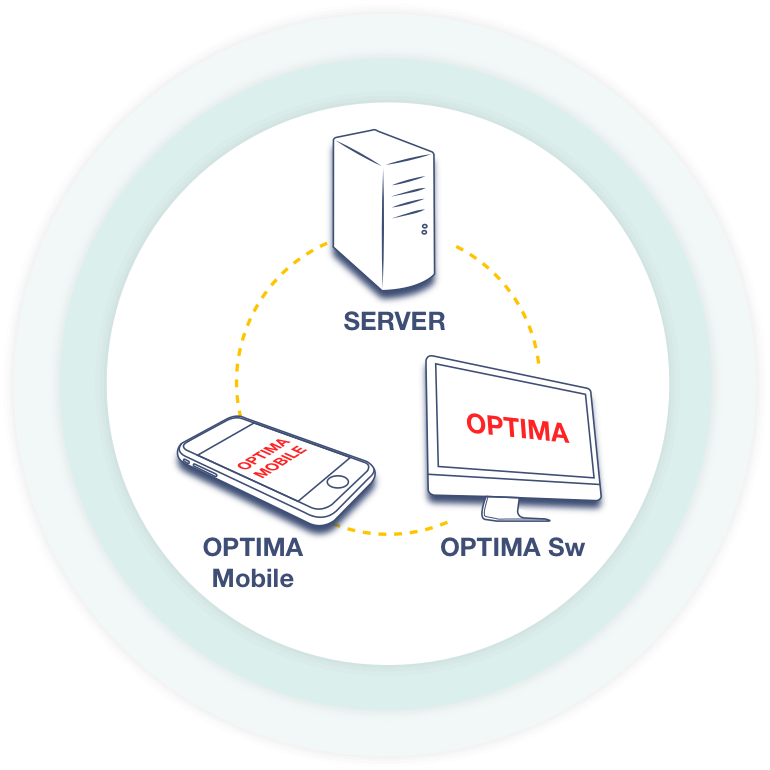 All events are logged in the encrypted Optima software, which maintains your biometric access control system from enrollment through comprehensive occupancy, entrance, and egress reporting. You can configure the access control system remotely.
04
INTEGRATION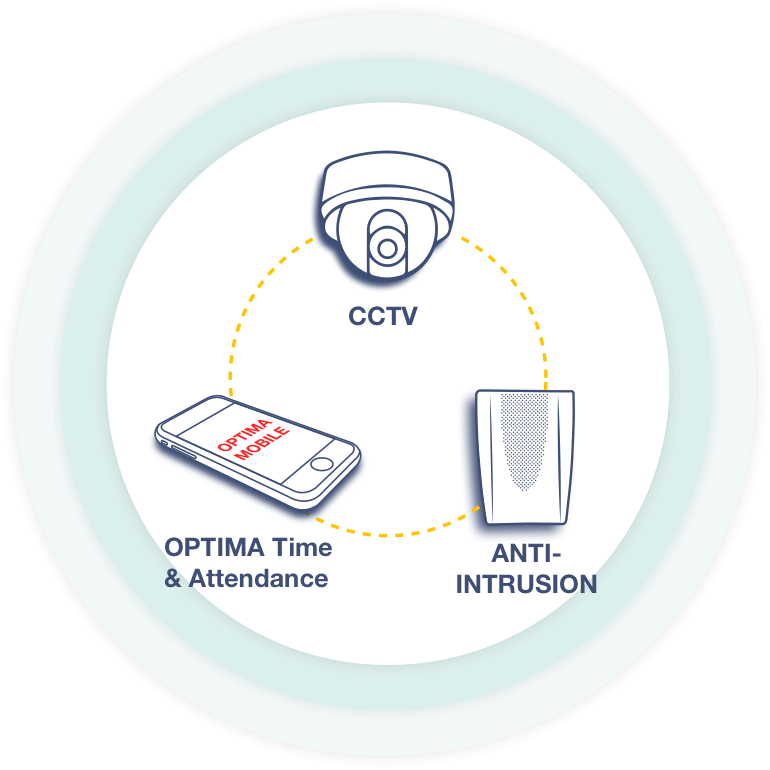 Optima connects with CCTV, anti-intrusion systems, and the Optima Time and Attendance module to provide a comprehensive security system.
Why Almas? The Right Access Control Solution, For Your Business
We've worked with UK businesses from 5-50,000 employees over the last 16 years; securing and protecting premises, property and people and are SSAIB accredited for your peace of mind. This means we adhere to strict criteria and procedures with regards to vetting of our team, health and safety and installation quality and checks.
Dedicated
Our security engineers and consultants support our customers effectively due to their expert knowledge; they are committed to providing you safety, security and peace of mind.
Tailored
The scalable solution you receive is tailor-made for you now, and in the future. Integration with your management software is feasible, contact us for more information.
Complete
We remove the burden of security by giving you an end-to-end solution including maintenance and service to SSAIB standards. Here's what our customers say about Almas:
If you would like more information, or to book a consultation with one of our security experts…
Complete the form below or call us today on 0333 567 77 99 (UK) / 01 68 333 68 (IRE).
We will get in touch to discuss your requirements so we can give you an accurate quote.
FAQs
We are here to help
Or if you would prefer to speak to a security consultant
How does facial recognition work?
Facial recognition is a method of identifying or verifying a person's identification by using their face. People can be identified using facial recognition algorithms in pictures, videos, or in real-time. It uses biometrics to map facial features from a photo or video and it compares the information with a database of known faces to find a match.
Facial recognition is a version of biometric security that aids in the verification of a person's identification, such as with access control.
Face recognition systems work with a high level of safety and reliability requirements due to the application of artificial intelligence and machine learning technology.
Is facial recognition secure?
Facial recognition access control matches a face's characteristics against a template in a database. That template must have been enrolled and authorised in the database first, then a matching process follows where identifying points are verified against the authorised template.
Can someone steal a photo of my face and use it?
The data is stored as a biometric template, rather than a picture of your face. All data is encrypted using 256bit encryption. Essentially a hacker would require 2256 different combinations to break a 256-bit encrypted message, which is a huge challenge even for the fastest computers. If they were trying to steal your identity, they would find it far, far easier to lift an image from your social media than to break into the database with your facial biometric template and backwards engineer it to a photo.
Is facial recognition GDPR compliant?
Any facial template that is created through companies using biometric access control is covered under the GDPR (General Data Protection Regulation). This means that the collection, storage, use and retention of the data must be carefully thought through. A PIA (privacy impact assessment) should be undertaken to ascertain whether it is a reasonable impingement of a person's right to privacy.
Can we use facial recognition access control for children or vulnerable adults?
Yes, but under the GDPR there is a special category of 'vulnerable data subjects' and children or Individuals can be vulnerable where circumstances may restrict their ability to freely consent or object to the processing of their personal data, or to understand its implications. You must undertake a Data Protection Impact Assessment to help you identify and systematically analyse, identify and minimise the data protection risks of a project or plan. Ask us for further information.
What's the difference between facial detection and facial recognition?
Facial detection merely identifies a face – with some CCTV camera systems the view can then zoom in to see the face in more detail. Facial recognition implies trying to identify whose face it is. Normally by comparison with a database. For private organisations, this database would consist of enrolled facial templates given when new users are added, with their consent, to a closed system. The data templates are encrypted and are not shared outside the system.
Who protects Data Privacy for citizens?
In the UK it's the Information Commissioner's Office (ICO); organisations that process data should be registered with them. If you're unsure whether you should be there is a simple and effective self-assessment tool that you can use to check. For Ireland it's the Data Protection Commissioner; you can find advice on their website.