Video Intercom
CONTROL ACCESS TO YOUR BUSINESS
Video Intercom
Secure your doors with a video intercom to effectively manage visitor access
Video intercoms work well when they supplement access control systems that accommodate your regular users. A video intercom should be a tool to vet and allow access for infrequent visitors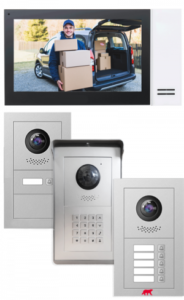 Secure your doors
See who's is at the door before granting access

A video intercom systems allow you to communicate with people visiting your site that don't already have access credentials. Video intercoms allow you to check who is at the door through the viewing screen before granting access. This allows you to challenge those you don't recognise, or stop unauthorised users from gaining entry.

Multiple configurations to suit your needs

Display screens can be placed in different locations throughout site. The door stations can have one button, a number of buttons, or a numeric pad which will allow them to ring an extension. The different buttons can be routed to ring a specific room to reduce disruption.

Anti vandal and weatherproof units

Robust and resilient units to deal with rain, snow, sleet and antisocial behaviour!
Secure your doors with a video intercom to effectively manage visitor access
Video intercoms work well when they supplement access control systems that accommodate your regular users. A video intercom should be a tool to vet and allow access for infrequent visitors
Different Types of Door and Gate Intercoms
Almas Industries builds a modular system to fit your requirements. Video or audio, one to one, or one to many, and routed according to your needs. A security consultation is the first step to determine how you want your system to work and to assess cable runs and installation time, then we can give you an accurate quote.
There are different factors and requirements to consider when choosing a new intercom door entry system and it should be part of a wider access control solution that allows your regular users to enter site without staff intervention.
Video vs Audio Intercom
In the case of a video intercom, the door will have a button and a camera within the intercom unit. Inside the building, or on your smartphone, you will have a screen where you can see the person in front of the door. You could ask them to show photographic ID before allowing them access.
With an audio intercom, only voice is transmitted, you have no way of verifying visually who is at the door, or whether they are who they say they are. Video intercoms, therefore, provide a higher level of security and are Almas' preferred intercom system.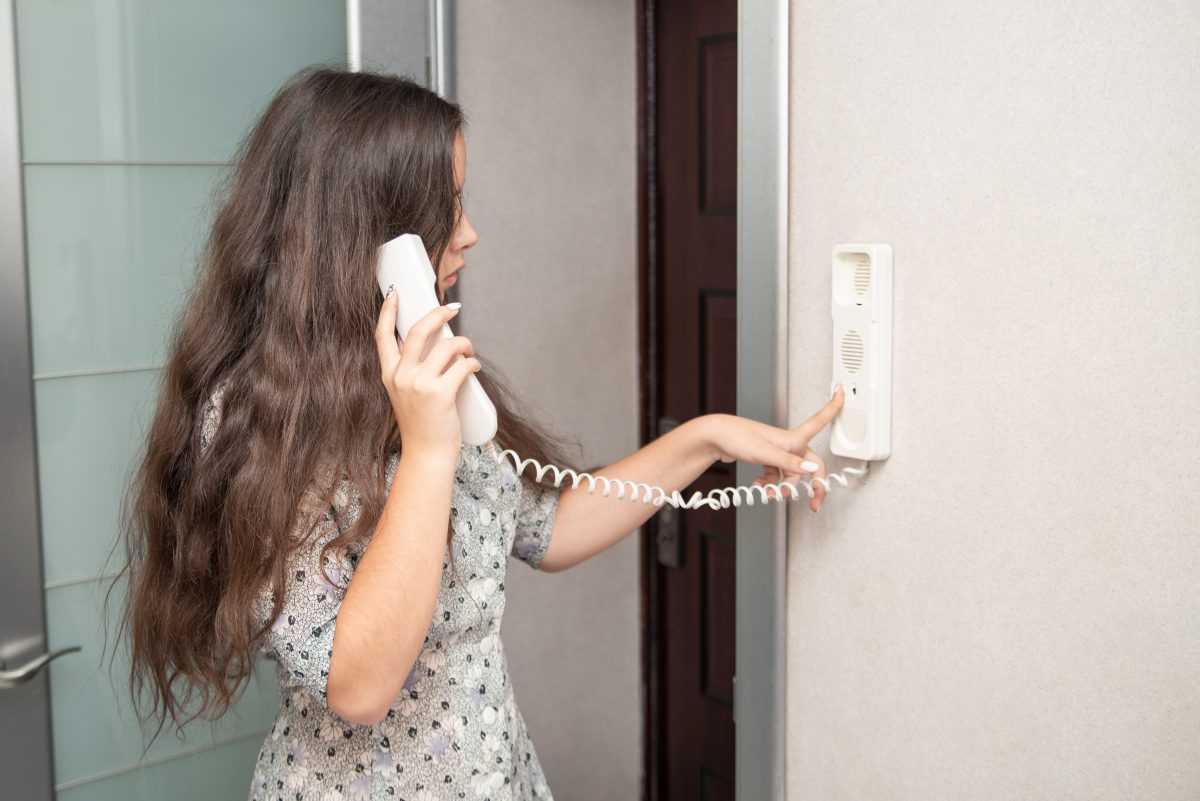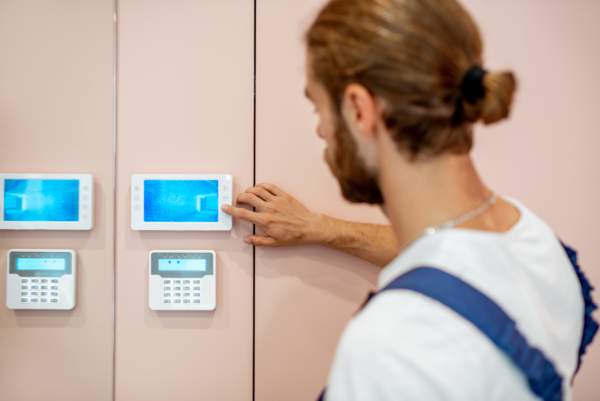 Wireless Intercom vs Wired Intercom
A wired intercom is hardwired, ie cabled, from the door where the user presses a button, to the 'handset' which is the receiver. Cables will be covered by trunking in a retrofit scenario or can be channelled or run during first fit for a flush finish.
Wireless intercoms can route incoming calls to a phone or computer using a network. This could mean that you could grant access when you are off-site. Wireless intercoms are convenient, but not as reliable as wired intercoms as you're relying on data networks.
One to One or One to Many Video Intercom System
Single tenant vs multi-tenant intercom
If installing outside a multi-tenant commercial building or serviced office, the intercom must have the ability to display a directory of tenants and direct calls to the relevant offices.
Route to multiple people or departments:
Similarly, you can narrow calls to go to different departments or rooms within the same business. This reduces the disruption, although it can reduce the likelihood of the call being answered swiftly.
Extension numbers:
Alternatively rather than having single buttons by department or tenant, a numerical pad can be used to 'dial' the right extension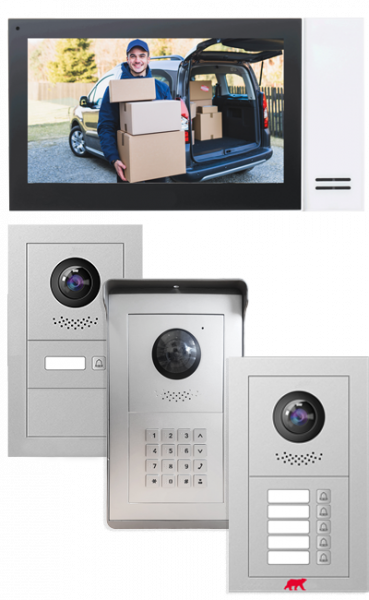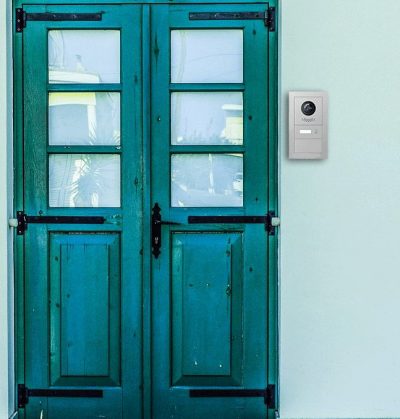 Vandal & Weather resistance
Intercoms are often mounted to the exterior of a building and can sometimes be targeted by vandals. You need to be confident that the unit has protection from vandalism.
The IK rating determines how vandal resistant a unit is on a scale of 1 – 10, 10, 10 being the highest vandal protection for the hardware.
An IP rating rates how how resistant your intercom will be to dust and water ingress.
Why Choose Almas Industries for your video intercom installation?
We've been securing and protecting businesses in the UK and Ireland for over 16 years. Our expert Security Consultants will work with you to decipher the flow of people and vehicles through your business and therefore your access control and intercom needs. Our team of experienced Security Engineers then install your video intercom system to SSAIB / PSA standards. Our teams are all vetted to BS858 standards; your security and peace of mind are paramount.
You can call us on 0333 567 6677 (UK) or  01 68 333 68 (IRE) for more information. Or drop us a line and we will be in touch.
FAQs
Have a few more questions? These may help..
Which is the best intercom for my business?
Deciding which will be the right intercom for your business depends on the flow of people and traffic around your site and the resources you have in place to manually grant entry every time there is somebody at the 'door'.
Your door entry system needs to be flexible as access to your site will include regular authorised users, for example, your employees, and frequent users; these could include delivery drivers, and visitors; one-off or infrequent users.
Using an intercom as your primary way of controlling access is labour-intensive as someone needs to grant access for every person entering the site or building.
How does a video intercom release the door?
When the person authorises the visitor to enter the building or site by pressing the 'yes' button, this sends a signal to the door.
The door will have an electronic lock installed. When the right command is given, the lock disengages for a set amount of time. When the door closes, the lock reengages.
Usually locks would be a maglock or electrolock.
How does a video intercom work?
The camera and microphone station are mounted by the door, barrier or gate
When someone presses the button, a signal is sent through the intercom system.
The intercom system sends a video feed from the camera to a display screen inside the site, or in some cases, can ring a mobile phone.
The member of staff inside can see and hear the person at the door through the display screen.
To communicate with the person at the door, the person inside can use the intercom's microphone and speaker.
If the person inside wants to allow the person at the door to enter, they can use the intercom to unlock the door remotely.
Can intercoms be installed anywhere?
The site must have power. If the intercom is to be wireless then there must be network too.
Restrictions would apply for listed buildings or if you're in a tenanted building. It's important to check these factors before you sign up to an intercom system.
Are intercoms are full visitor management system?
Simply, no. They aren't recording details of the people that are entering the site, and there is no control or way of knowing when they leave the site. If this is what you're looking for then we would suggest our Optima access control system, which integrates with industry leadling Inventry visitor management software.