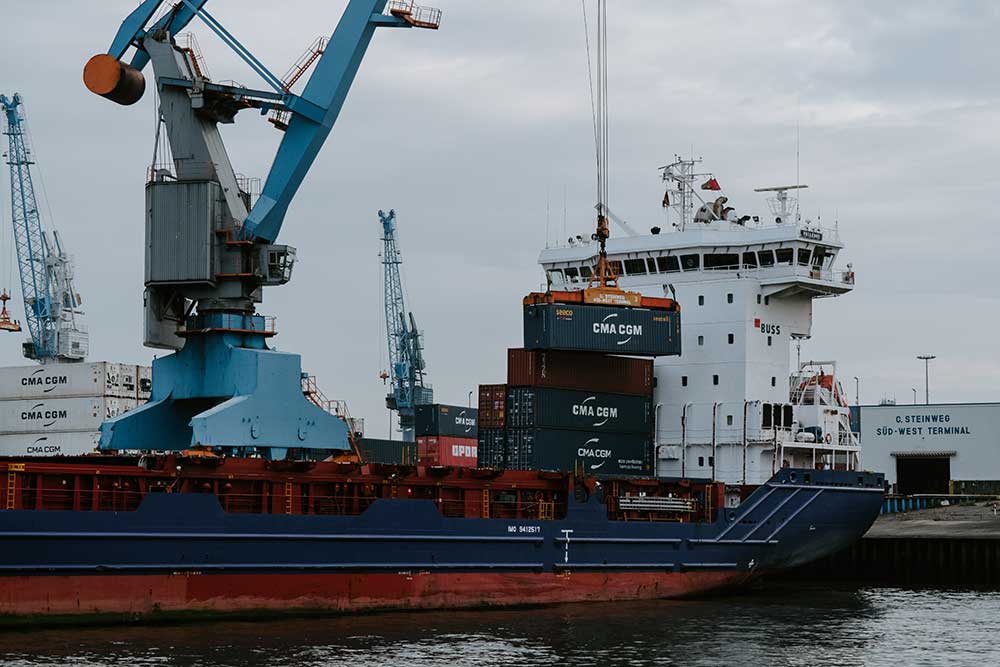 Blog
Record-breaking crime reported in the logistics sector
Almas Team 2018 was a record-breaking year for losses within the cargo industry. The Transported Asset Protection Association (TAPA) confirmed that the number of recorded cargo crimes in Europe, the Middle East and Africa was the highest count in their 21-year history. What has contributed to this massive increase in supply chain crime? And what can you do as a supply-chain business owner to prevent it affecting you?
Biggest recorded crime in 21-years
2019 began with 302 newly-reported cargo thefts in January – a 68.7% growth over the same month a year ago. 70.8% of these crimes produced a total loss of €10,797,475, averaging a cost per crime of €50,455. 14 of the 302 incidents were recorded as major cargo thefts with losses of €100,000 or more. Recorded incident rates in the United Kingdom and the Netherlands accounted for 90% of the monthly total; the 230 crimes reported in the UK represented 76.1% of the January figures. Major losses in the UK included:
€437,255 – The theft of a shipment of shoes from a vehicle in Batley, West Yorkshire
after thieves cut the locks and seals on a truck parked on an industrial
estate.
€434,810 – The loss of thousands of pairs of cricket shoes from the back of a lorry in
Leeds, West Yorkshire.
€421,187 – In Skelmersdale, Lancashire, offenders stole a trailer loaded with
confectionary after entering a secured haulage yard in a tractor unit.
€421,187 – The loss of fashion clothing from an HGV and semi-trailer left in an unsecured
parking location on an industrial estate in Leicester.
€280,791 – Miscellaneous goods were loaded onboard a trailer stolen from a secured
compound in Birmingham, West Midlands. The thieves entered the site in a
tractor and proceeded to steal another tractor as well as three shipping
containers on trailers.
€199,749 – Three parked and unattended HGVs and semi-trailers with no loads onboard were
taken from a secured parking place in Skelmersdale, West Yorkshire.
A poor economic outlook in Europe has spawned a significant increase in cargo loss and created a dangerous environment for drivers. The hardest-hit sectors include electronics, pharmaceutical, retail, apparel, and alcohol and tobacco. Criminals also commonly target the food and beverage industry, as well as importers and carriers of everyday consumer goods. The repercussions of cargo theft can be devastating. Loss of sales, product theft, liability, product contamination and recall, as well as brand equity damage may result from a single incident of cargo tampering or loss.
As if the numbers were not a big enough cause for alarm, the highest loss recorded by TAPA in January 2019 was also a reminder of the length criminals are prepared to go to when they have a target in sight. On 2 January, four men armed with an automatic weapon used a truck to close a section of highway in Melito di Porto Salvo in Italy's Calabria region. As the cash-in-transit vehicle they were targeting approached the location, the occupants were threatened at gunpoint and forced to leave the vehicle. The criminals then used two bulldozers to smash open the armoured vehicle's strongbox before making their escape with €2,300,000 in cash.
Preventing crime in logistics' infrastructure
An ever-increasing reliance on worldwide commerce is pushing the global transportation infrastructure to its limits. The backend of the global
transportation sector – cargo, shipping, logistics and warehousing – are far more susceptible to attack that the front end but present a more complex security problem. Vulnerabilities exist through the web of transportation services, particularly at chokepoints such as ports, borders and transportation hubs. Even a single incident can create havoc on the transportation infrastructure and cost many thousands of pounds. Small to medium sized businesses are particularly at risk.
Biometric solutions for transportation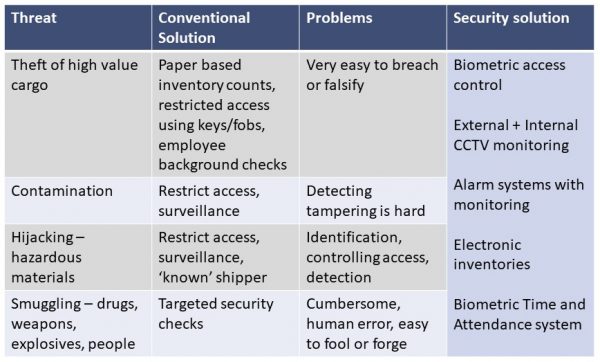 With biometrics, pressing and complex security problems which cargo transportation companies are facing including theft, tampering, hijacking, contamination of critical cargo, bombs, smuggling and fraud can be resolved. When it comes to controlling access to critical cargo or sensitive areas, a biometric access control system is the perfect solution. When biometrics are integrated with other security solutions such as motion-activated lights, monitored alarms and CCTV, it makes it much more difficult for criminals to undertake theft or tampering. It also provides intelligence which can be used to prevent internal theft or run audit trails within a business should an issue such as lost cargo occur.
A fully tailored security system that uses biometrics to control access and CCTV to monitor staff/ contractor and visitor movement can be used to protect entry and exit points, perimeters, cargo storage areas, offices, storerooms and communal areas.
The dynamics within the transportation marketplace demand that businesses continually improve and refine their operating systems, so that they can keep costs to a minimum and stay competitive. Any system which offers potential cost reductions, productivity increases, and improved customer service is therefore a wise investment for a logistics business.
In Rotterdam, the world's largest seaport, biometrics have been used very successfully to control truck driver access to the port since 1999. The system expedites the movement of cargo from marine vessels to trucks, verifies the identities of known drivers and provides an electronic audit trail. The PortKey biometric system has allowed in excess of 3 million transactions since it was adopted.
Clocking In, Clocking Out
A further benefit of adopting a biometric access control system is that it can be used to track the movements of employees. With the addition of a Time and Attendance software package, you can do away with paper-based timekeeping systems. In an industry where large numbers of staff who often work shifts need to be managed, this can prove to be a powerful tool. Employees clock in at the start of their shift using their fingerprint. The system logs them. They clock in and out for breaks and then out again at the end of the day. No-one forgets their timesheet, there is no margin for error and no way to falsify a record. Furthermore, holidays, sick leave and absence requests can all be managed through the software. If something happens and you need to check where a staff member was, then the data is there ready for an audit. Biometric time and attendance provides transparency for everyone in the workplace – and saves time and money.
Why Choose Almas Industries to protect your logistics business?
The advantages of a security system which includes biometrics are clear. Reliable authentication of individuals involved in transporting, screening or clearing cargo; reductions in reliance on paper-based systems, and irrefutable evidence that can be used should an incident occur. Whether you run a haulage business, a warehouse or are involved in the manufacturing of goods, let Almas help you to future-proof your business. You can find out more about our solutions here
Contact us today for your free security audit. From the movement we make contact, we will be focussed on the needs of your business. Call us on 0333 567 6677 UK or 01 68 333 68 Ireland or send a confidential email via [email protected].