Track Time and Attendance
Save money using biometric 'clocking in' machines

Save time and improve productivity with biometric face and fingerprint clocking in machines
Are you still tracking time and collating hours manually? Automated time and attendance systems will change your life! By reducing manual data entry, you'll reduce errors and save hours of management time alone as well as ensuring compliance with the Working Time Directive requirements.
Prices start from £49€ pcm.
Track Actual Hours worked with Biometric time clocks
Traditional clocking-in machines or punch clocks check only what your employees have in terms of a card or fob and these older systems are subject to abuse and 'buddy punching'. Persistent unidentified tardiness and extended breaks cost businesses millions of pounds annually. Save by paying for the hours and minutes actually worked, rather than overestimated totals, by tracking your employees clocking in and out with fingerprint recognition or face scanners.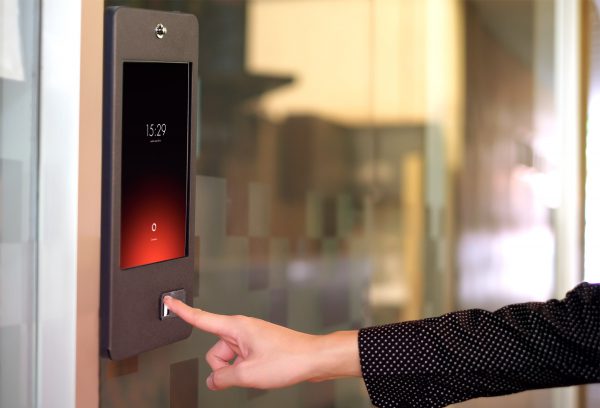 What are the benefits of facial or fingerprint attendance systems for clocking in?
They check who a person is; your face or fingerprint is unique to you
It keeps your business compliant with the Working Time Directive and labour laws with accurate attendance records
Employees can't lose or leave their finger or face at home and they can't lend it to a colleague
There are no replacement costs when someone loses their card or fob
The biometric time clocks record accurately – to the minute
Which Biometric Time and Attendance System is Right for Your Business?
The size of your team, the number of sites and the complexity of your work patterns and business organisation will all influence which is the best time attendance software for your business, and therefore the cost. The old 'clocking in' and 'clocking out' punch clocks and machines of the past are no longer able to keep track of employees' flexible timetables, a mobile workforce and hybrid working.
You need a solution that works for you, your managers, and your employees which is simple and easy to use and administer.
Our 'Clocking in' machines and solutions now include a range of facial and fingerprint scanners plus a mobile time tracking app for hybrid or remote workers.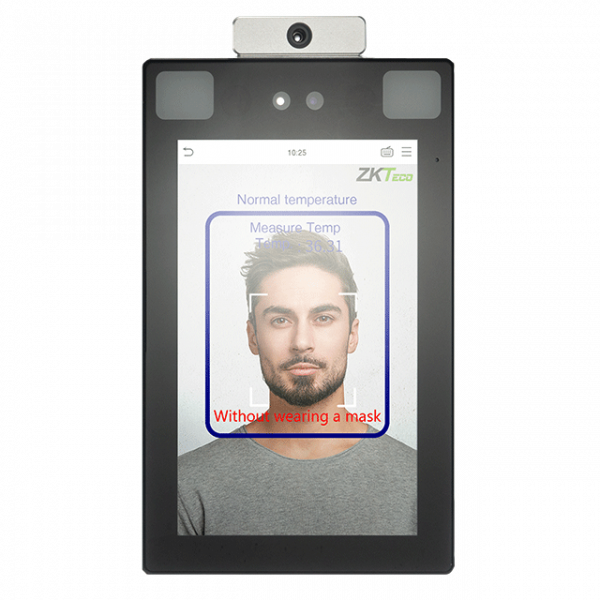 OnTimeX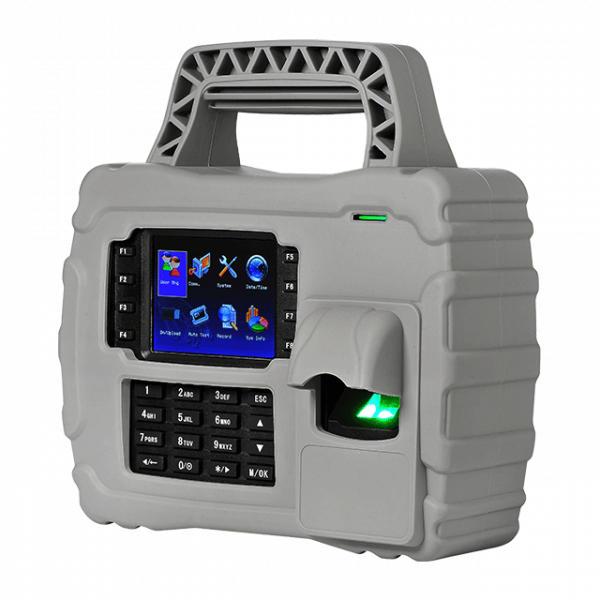 OnTimeM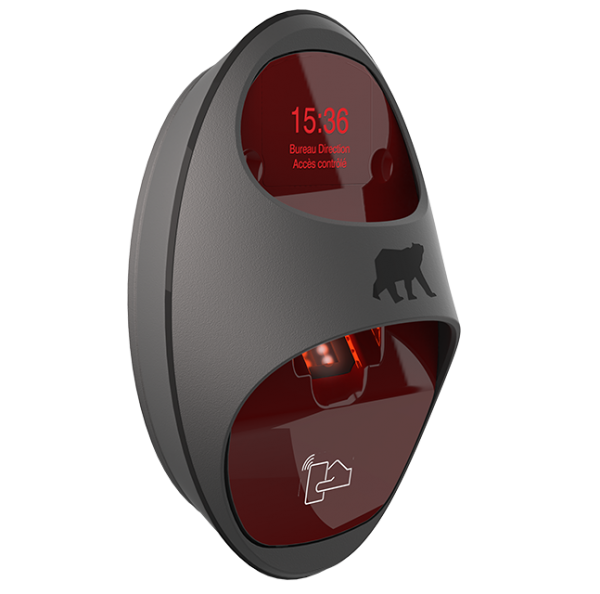 Optima ID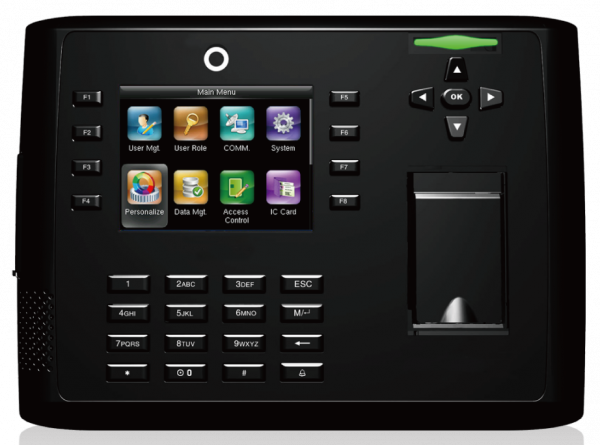 OnTime+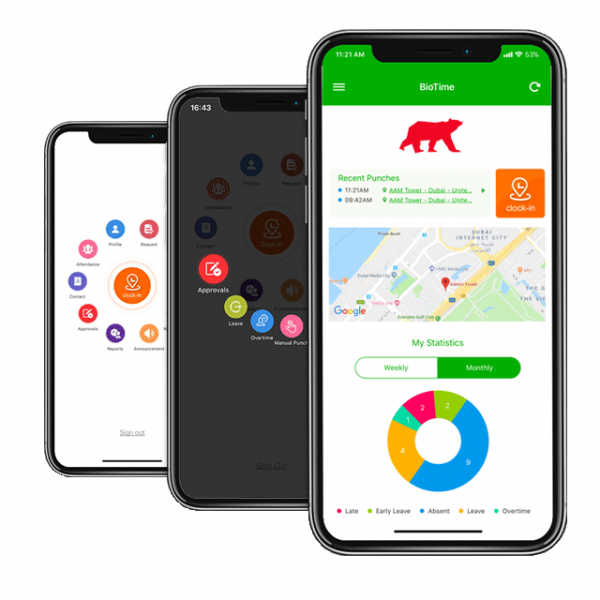 GPS tracked employee time tracking app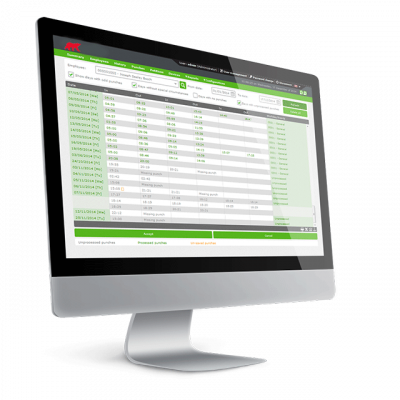 Save Time and Improve Efficiency with clocking in and out HR software
OnTime is intuitive and clear time attendance software that lets you manage your employees' working hours and movements with ease:
Full reporting suite, examples include:
Roll Call Reporting
Tardiness
Exceptions and alerts for anomalies
Time clock cards for individual employees and departments.
Overtime
Full management reporting suite for super-users.
Month-end collation of hours becomes simple and quick, eliminating hours of wasted admin time.
Rotas: complete your rotas in the time and attendance management software. Create and publish schedules online.
Manage absence; define types of absence, manage requests and entitlements all in one place.
Absence workflows: track time-off requests, approvals and holidays.
Hybrid Working & Time Tracking on the Go
Manage remote workers with GPS tracked 'clocking in' via their mobile. Options include a photo requirement.
Easy audit trails if required for customers or HR purposes. Discourage presenteeism and encourage a work/ life balance for home workers
Adhere to the Working Time Directive and EU Regulations by proving that employees are not exceeding set hours and are taking required breaks when working from home or in the field.
Can you prove hours worked currently? If not, you could be risking a fine or employee tribunal.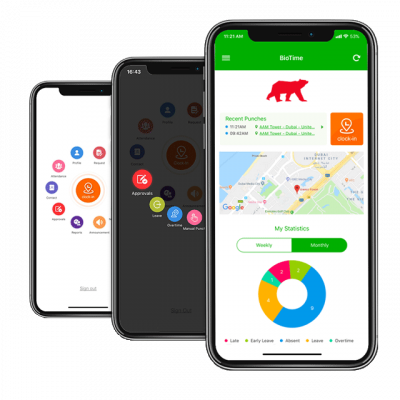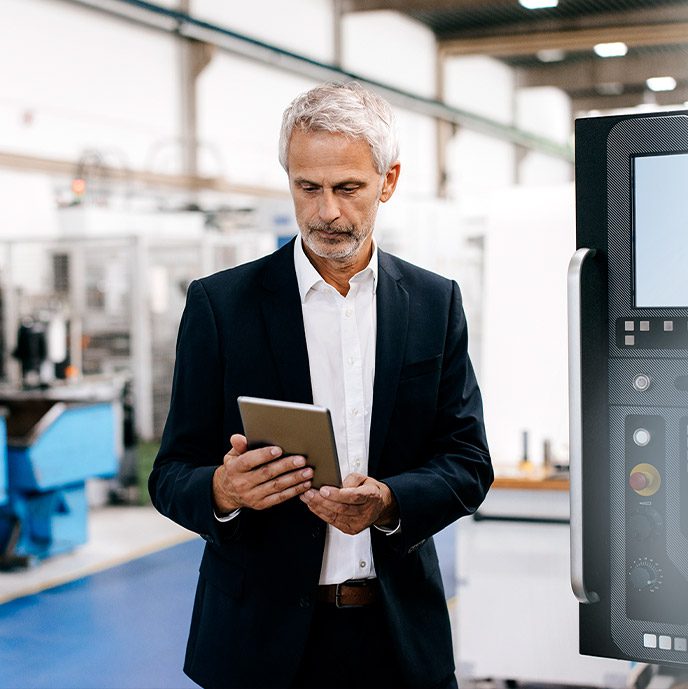 Why should you choose Almas Industries' Biometric Time and Attendance solutions for your business?
We have been installing biometric systems in UK and Irish businesses with between 5-50,000 businesses for 17+ years and are part of the Almas Industries Group with over 30,000 installations across Europe.
Free 3-Step Audit
We're passionate about recommending the right time tracking solution, tailored around your business. Our Consultants work with your specific needs and budget.
Contact Us


Complete a quote form and then we'll arrange a free, no-obligation time and attendance consultation.
We visit you
We carry out a free survey of your premises at a time that suits you.
Your clocking in solution 
Our experts build a tailored package including scoping and implementation, training and ongoing support.
FAQs
Here are some commonly asked questions about Time and Attendance software and systems and GDPR considerations
What are The Working Time Regulations and what are my legal responsibilities as an employer?
It is a legal requirement that unless an employee has 'opted out', they should not work more than 48 hours a week on average – normally averaged over 17 weeks. This law is sometimes called the 'working time directive' or 'working time regulations'.
As an employer you must be able to prove that your team haven't worked over 48 hours per week if they haven't opted out. This essentially means that you have a record of the hours they have worked to prove they haven't done over 48.
Also known as 'Buddy clocking', this is the practice of getting a colleague to clock you in rather than doing so yourself. Prevalent with large teams where tardiness may not be noticed and notorious in construction in years gone by where subcontractors' hours are rounded up or sometimes completely fabricated! The familiarity between junior management and teams can lead to an overstatement of hours due to persistent lateness or extended breaks or off-site appointments.
ersistent Buddy clocking alienates punctual employees that are doing their full hours over time, don't allow offenders to demotivate your conscientious employees!
Can I use biometric time reporting for HR/ disciplinary investigation purposes?
Any new time and attendance system implementation should be accompanied with clear information and explanation for your team. It's important that they know why you are implementing this and the benefits of more transparent reporting, easier absence requests and more. You should conduct a data privacy impact assessment to be compliant with the GDPR regulations. Biometric time and attendance require the employee to be enrolled in the system, by being enrolled they are consenting to use the system. Employees should have the right to request an alternative method of clocking in. Provided the steps above are followed and reflected in your employee handbook, records can be used in disciplinary processes.
Are biometric time and attendance systems GDPR compliant?
The technology and encryption levels are acceptable for GDPR purposes. The management and implementation of T&A systems and the compliance of such is determined by your management team and processes. Essentially, we provide a system that is designed to be GDPR compliant, but we cannot enforce you using it compliantly. If you don't set a complex passwords or lock down access to key, mandated personnel, for example, then you wouldn't be following the principles of GDPR. This would be a process failure rather than a technological one.
We advise all our customers on their responsibilities and have templates that will help you communicate to your team.
How has time and attendance tracking evolved over the years?
Did you know that time and attendance sheets have been around for over 4,000 years?!
That said, not much then changed until 1890, when jeweller Willard Bundy patented the first mechanical time clock, or punch clock. That's where we get the modern concepts of 'clocking in' from.
Read our articles on the evolution of T&A tracking here
How much to biometric clocking machines cost?
We know you want a price straight away! But the right solution for you depends on many different considerations.
The size of your site, whether you're a multi-site operations, the number of employees, the types of devices and the complexity of your shift and employee patterns all determine how much your time and attendance solution will cost.
The best plan is to get in touch