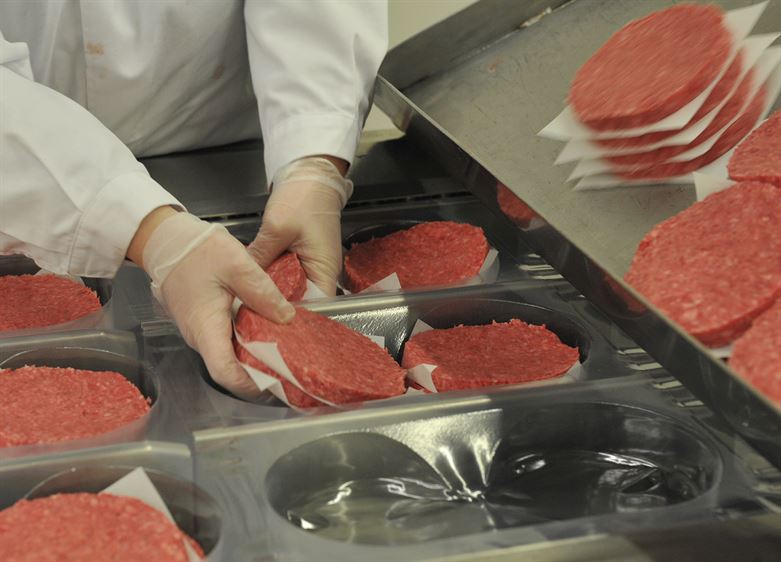 Blog
Food Production and Covid Outbreaks
Almas Team Covid-19 seems to be flourishing in the cold, damp environments of Europe's meat processing plants. What can employers do to safeguard their workforces and ability to operate? Almas Industries' three-in-one solutions offer contactless access control, fever and mask detection; long term benefits of increased productivity while protecting your team from virus transmission.
The Biometric Future And The Cost Of Complacency
Before Covid-19 broke out and all we could talk about was Brexit, there was a meme circulating with a picture of Winston Churchill and his famous last words. "I'm bored of it all", it read. Three months or so into lockdown, unsurprisingly, it's still doing the rounds.
The problem with boredom is familiarity, which as we know, always breeds contempt, and the papers are full of it – people ignoring social distancing, not wearing masks, and largely acting as though life has gone back to normal.
Of course, what the papers push isn't necessarily the whole truth: the majority are – or at least trying to – stick to the rules, but people doing what they're asked doesn't make headlines.
This weekend, manufacturers of food production have hit the headlines in a big way, with Europe's largest meat-processing plant, Tönnies, being forced to close by a massive Covid-19 breakout affecting more than 1,500 of its workers. Germany's labour minister has called for the owners to be called to account, as the outbreak has had national implications and necessitated the quarantine of some 7,000 people. Minister Hubertus Heil said an entire region had been "taken hostage" by the factory's failure to protect its employees.
Rosderra in Ireland made national news when 120 workers in the Rosderra Meats plant in Roscrea tested positive for the virus. At the time, Michael Creed, Ireland's agricultural minister, told MPs that he was aware of six meat processing plants with two or more confirmed cases.
In the UK, three food production factories have been forced to close in West Yorkshire, Anglesey, and Wrexham with around 250 people testing positive for the coronavirus, and workers' union Unite said that it's aware of suspected outbreaks at five other sites in the UK, too.
One site, which supplies bacon to Asda supermarkets has 150 cases in a workforce of 500. It is closed until next week.
Another site, belonging to the UK's main supplier of supermarket chicken, is closing for 14 days after 58 people tested positive while 38 have tested positive at another major supermarket food provider. In the latter instance, company bosses have said it reflects an overall local increase rather than a spread within the site.
There is no suggestion that the UK food production companies affected have deliberately flouted Health and Safety rules or guidance, as is rumoured in Germany, and that they have been doing everything reasonably practicable to ensure guidelines are met. There is mounting evidence that low temperatures and damp environments prevalent in meat factories are conducive to Covid-19 survival and transmission.
These recent outbreaks raise the question, could more be done? What would it cost you to shut down for a week or two?
Familiarity can breed complacency. In 1994 The Simpsons aired one of its best episodes – "Itchy And Scratchy Land". The family travels to the theme park by helicopter, where the pilot proudly tells them "Nothing can possibly go wrong". Wait. What? Cue Bart Simpson in a theme park. If you don't know, you can guess…
It only takes one infected person – perhaps relatively asymptomatic, or thinking they just have a hangover – to come to work on Monday and infect another person, or perhaps two. The next day it becomes 4, and by the end of the working week? It could easily be half the company or more, especially if the facility runs 24/7 on shifts.
But what if you could stop that person getting into the building in the first place?
Many food production companies are trying this approach, combining their access control and punching in-and-out with manual temperature checks and some health questions. It makes sense – up to 89% of Covid-19 positive patients present a fever.
But think about it – you have one or two points of contact for every member of your workforce, checking their temperature, exposing both themselves and then potentially every other worker to infection.
Contact is one of the main forms of transmission of Covid-19. Even if on the production line all precautions are taken and hygiene standards are met, there are still issues of access control and common contact points. Are your staff punching in and out manually? Are they using another person's card to cover for them? Not only is there an increased risk of transmission, but the potential for time theft and abuse of the system could also be costing you dearly in productivity. Are they using communal kitchens, bathrooms, locker rooms? Think of that one infected person again, on shift, using all those spaces. "What could possibly go wrong?"
There's the time factor with the manual checking, too. Assuming 30 seconds per employee, it's an hour lost if you have 120 workers on shift, and that's assuming that someone doesn't ask for their temperature to be taken again. How much is that costing you in lost time and productivity, as workers who have already been tested have to kick their heels and wait for their colleagues to turn up?
So what's the solution? You need to be certain that your employees are turning up on time. You need to be certain that they're not covering for other people. You need to be certain they don't have a fever. You need to be certain they're not touching anything other than what's absolutely necessary.
What is the solution for food production companies?
Biometric, contactless access control through facial recognition solves many of these problems. It can show who is turning up, at what time, and logs them into the system. No keyfobs, no punchcards, no signing in or signing out. No contact.
If they walk in, they're logged in. No delays, accurate time and attendance readings, no "working the system" or time theft. No loss of productivity. You know exactly who is on your site, when they got there, when they left, giving you the ability to generate automatic fire roll calls.
The next generation facial recognition tablets not only check who that person is and whether they have the access credentials to enter site and detail exactly when, but they have optional fever and mask detection.
The employee is checked at a glance, and from a safe distance, if the person has a higher-then-normal temperature, then access can be denied and HR/ reception notified to discretely move them into a separate holding area in order that further verification/ checks can be made.
Tablets can scan individuals as necessary, perhaps extra visitors or someone requiring a second reading. Fever detection cameras can scan large volumes of people at a time, helping eliminate delays caused by having to funnel people through a specific space.
We are entering a new era of the workplace – an era of social distancing, of even more stringent health and safety – it's a future we must all invest in.
These systems are not bolt-ons, they are a durable solution and a long-term investment to keep your employees, and therefore your company and its future, secure. Long-term gains in productivity and efficiency complement the (hopefully) short-term protection against virus transmission within your business.
There can be no "I'm bored of it all" quick-fix.
Yes, a complete, secure, contactless, biometric access system with fever detection, is not free. Looking at the headlines this week consider what is it might to cost your business if you don't?
Let Almas help you bring your workplace into a safe, secure, and creative, post-pandemic future. We've been working with biometric access control for years, and we can do it contactless too. Fever detection solutions help reduce the risk of infection spreading through a workforce.
Safeguard your food production business with customer focussed, GDPR compliant solutions to help your employees get to work in the right environment.
Contact the team at Almas Industries today to discuss biometric access control, biometric readers, or facial scanners for your business. You can call us on 0333 567 77 99 (UK) or 01 68 333 68 (IRE) or email us: [email protected]