Stop infection at the door
Protect your people, site and your ability to operate with Almas' Anti COVID-19 solutions
Get more information

Monitor fever
Up to 89% of Covid-19 positive patients presented with an abnormal temperature; making it the most prevalent symptom and one that could be disguised or overlooked in mild cases.
Quick, accurate screening
Body temperature detection systems accurate to within 0.3° allow businesses to identify employees, customers or visitors that may bring infection into the workplace and the wider workforce.

Get back to work, safely
Almas Industries' fever detection systems enable you to isolate potential carriers, thereby safeguarding your teams and business.
Fever Detection Systems
Protect your team with temperature spot checks

1-2-1 non-contact body temperature reading cameras for low traffic environments allow small businesses to check an individual when they have entered the building, before they are permitted to proceed past the reception area.

Accurate to within 0.5°C and the re-chargeable battery can last up to 8 hours.

Stop infection at the door

A standalone, practical and cost-effective solution to determine whether staff, visitors or customers may be bringing infection into your business.
Get in touch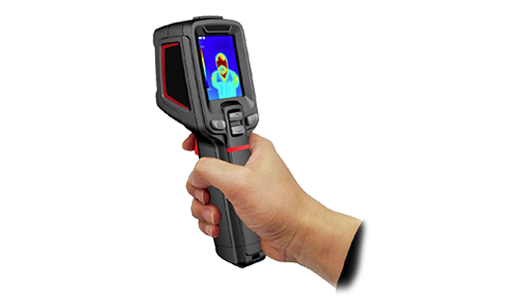 Mass Fever Detection
Mass Fever Detection

Identify elevated temperatures of up to 30 people at a time up to distances of 9 metres depending on camera model. Accurate to within 0.3°C when coupled with the black body, this solution provides a comprehensive and reliable system for high traffic environments.

Check for abnormal temperature before further infection occurs

Monitor employees as they start their shift, or customers as they enter your premises.

Management software and integration with Almas access control software on an internal door can automatically deny access for any feverish individual.

Get in touch to discuss which model would be right for your business.
Get in touch
Facial recognition with Optional Fever and Mask Detection
Combine fever detection with access control

Stop any individual with an elevated temperature from accessing your business further. The temperature is logged and the Almas Industries' software stops the door opening even if the biometric face template is authorised.

In environments where masks are mandatory, an option can be set to deny access if the user is not wearing a mask and has a normal temperature.

Make masks mandatory

In environments where masks are required, an option can be set to deny access unless both conditions are met; the user is wearing a mask and has a normal temperature.

Contactless palm recognition can then be enabled to ensure only authorised people access your site.
Get in touch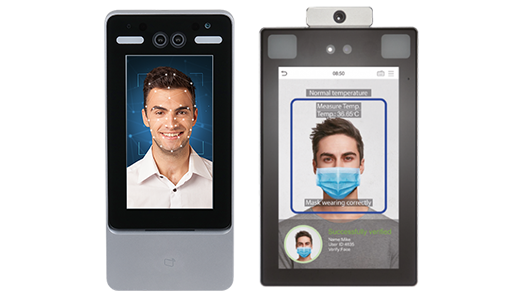 Why Almas?
We recognise the significant and lasting impact Coronavirus has had on us all and our mission to create safe and secure environments by tailoring solutions for our customers has never been more prevalent.

Flexible payment
Affordable, flexible payment options for all budgets. Getting you back to work – safely.

Full service
Responsive and full service support is on hand at all times for all training and maintenance needs by our team of in-house engineers.

GDPR compliant
Our security consultants analyse the best solution for your business' needs. GDPR advice, signage and professional service gives our customers peace of mind. Ready to make your premises a safe place?
Complete your details and we will get in touch with you.
You can also call us: UK 0333 567 7799 – IRE 01 68 333 68